Welcome to MODEGAT VII!
↵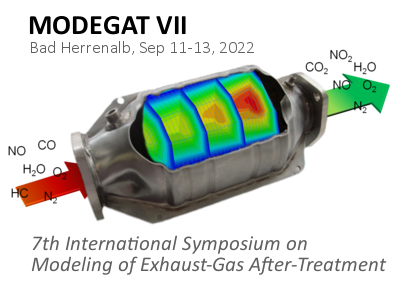 MODEGAT VII will take place September 11-13, 2022, in Bad Herrenalb/Karlsruhe, Germany.
Special focus topics of MODEGAT VII will be (among other related topics):
SCR of NOx
Three-Way Catalysts
Gasoline Particle Filters
Digitalization: Machine Learning and Control systems
Novel Power Trains: Hybrid vehicles, Fuel cells, Hydrogen fueled engines
Emission control of non-mobile systems: Chemical, Steel and other industries
The MODEGAT symposium allows researchers, scientists, and engineers from industry and academia to exchange and discuss state-of-the-art and novel modeling and simulation techniques, fundamental mechanistic studies, experimental model validation as well as technical applications of modeling and simulation.
The location, program and low conference fee is set up to boost open discussions and new collaborations. Introductory plenary lectures will give newcomers to the field an overview of the state-of-the-art. Contributed presentations and posters will provide experts with a platform to discuss current developments and most urgent open problems.
Stay tuned for updates regarding a call for abstracts, registration, and more and visit this conference website www.modegat.org for more info!
We look forward to connecting with you for the MODEGAT VII symposium.
Sincerely,
Your MODEGAT VII Organization Team
--
On behalf of the conference coordinators
Daniel Chatterjee, Rolls-Royce Solutions GmbH
Olaf Deutschmann, Karlsruhe Institute of Technology (KIT)
Martin Votsmeier, Umicore AG & Co KG