Sendung mit der Maus
Sendung im TV: ARD, 02.09.2012 Sendung mit der Maus (Link für ARD-Mediathek)
Drehtermin (März2012) mit der Sendung mit der Maus : Das Entropierad (siehe Foschungsgebiete) soll für Kinder verständlich erklärt werden
Television visits the institute: People from the "Sendung mit der Maus" produce a movie for children about the entropie wheel (see research topics)
Der Besuch findet großes Interesse am Institut und erfährt auch Resonanz in der Presse (Badische Neueste Nachrichten, Karlsruhe, Nr. 75, S. 21 vom 29.3.2012) und im Facebookauftritt des KIT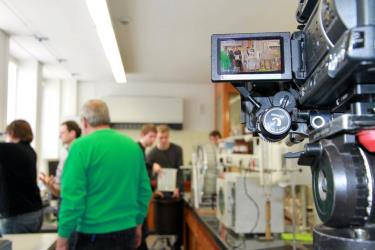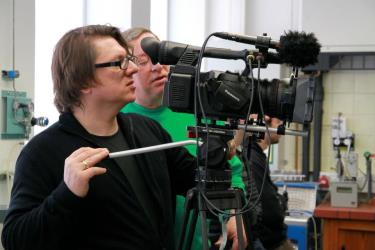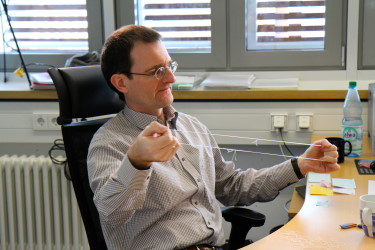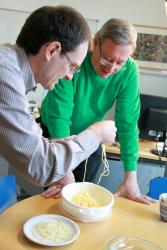 Prof. Wilhelm erklärt die besonderen Eigenschaften von polymeren Elastomeren anhand von praktischen Beispielen.
First the basics: general properties of elastomers and the general idea of the entropie wheel.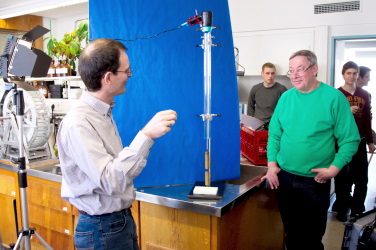 Demonstrationsexperiment für die besonderen thermischen Eigenschaften von Kautschuk, die Kontraktion unter Spannung (Gewicht) und Temperaturerhöhung.
The special temperature behaviour of elastomers can be shown by a simple experiment.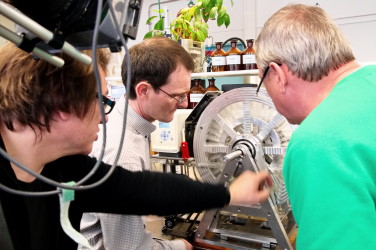 Das Entropierad kann aufgrund dieses Effekts thermische Energie, z.B. warmes Abwasser, in mechanische Bewegung umwandeln.
The entropie wheel can convert thermal energy, e.g. from waste water, into mechanical energy.
Wir freuen uns schon auf eine interessante Sendung mit der Maus über unsere Forschung.
We're looking forward to television broadcast about the entropie wheel.