Welcome
The group focuses on polymeric materials, their molecular structure and the resulting macroscopic material properties. In addition, the enhancement of characterisation techniques builds the base of our research. An important part are the synthetic capabilities of the group allowing to structure well-defined polymers with variable composition of monomers and controlled topology. Model systems are a prerequisite to study structure-property relationships.
Additional information on our research can be found here.
Tryout of the lecture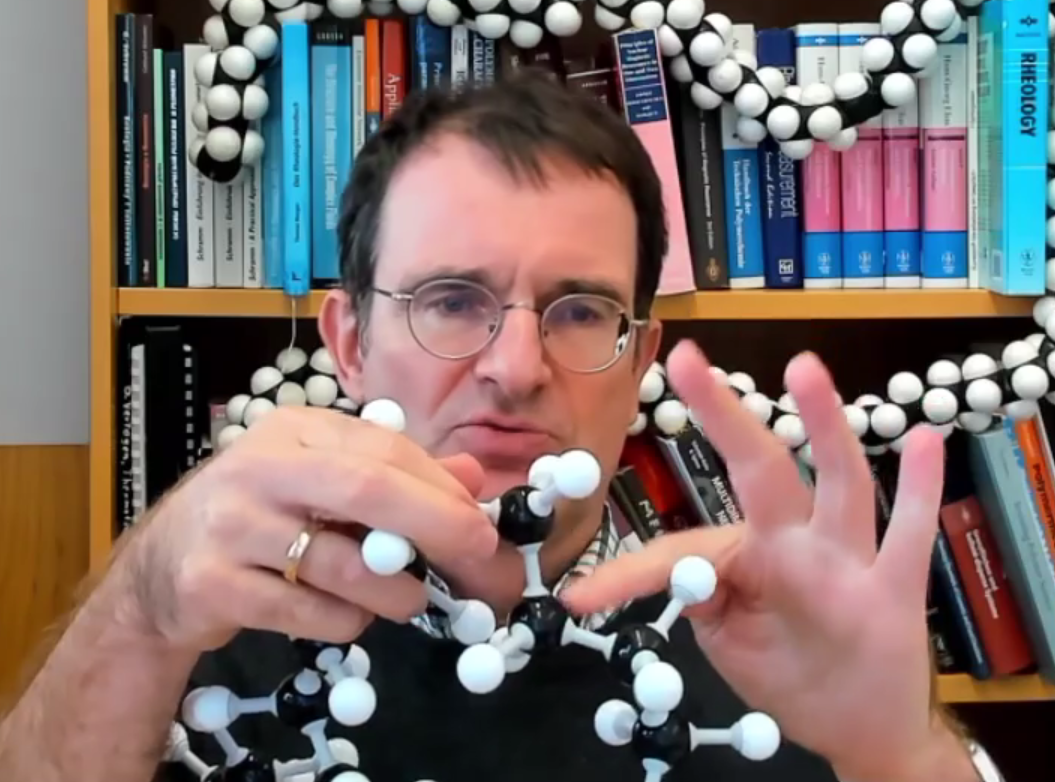 Let's go for a impression of the lecture "Einführung in die Chemie Und Physik der Makromoleküle" in On-Demand Streaming.
If you are interested: Look into the CAS for registration or go via the survey page "Teaching in the Group of Prof. Wilhelm" where you can find the actual offers in teaching as well as list of all possible lectures.
Teaching in the summer semester 2022
All information about teaching in the summer semester 2022 in the working group of Prof. Wilhelm you will find here summarized.
Or you can have a look at the overview of teaching in the working group of Wilhelm, where you will find all current and all possible events.
Coworkers wanted!


You are interested in synthesis of polymers, characterisation methods or even the development of such methods? You want to work in an interdisplinary group?
HiWi, student research project, PhD thesis or postdoc? Here you find more Information!
Publications


Are you interested in our scientific work?
Here you can find:


The current list of publications
Coworkers of the group
Here you find:
List of members of the working group


Service measurement
Shortinfo service measurements
Announcement Publication Award Rheological Acta
The Publication of Valerian Hirschberg of our Group
"Nonlinear mechanical behavior of elastomers under tension/tension fatigue deformation as determined by Fourier transform" (DOI 10.1007/s00397-021-01310-3 )
will be awarded with the Publication Award of the journal "Rheological Acta" in 2022. The award ceremony will take place at the AERC conference 2022, April in Seville.
Justification from the Editorial commitee was:
"This paper extends the well-established techniques of non-linear shear rheology analyzed by Fourier-Transformation (FT-rheology) to the domain of elongation, which broadens the concept and is the logical next step. This new technique in terms of higher harmonic analysis has been shown to detect fatigue in elongation quicker than classical complex moduli, thus giving it not only a fundamental scientific interest but also making it highly relevant for practical applications of hyperelastic materials."
Academy of Sciences
Jan 2022: Prof. Dr. Manfred Wilhelm has been appointed as a member of the Academy of Sciences in Mainz!
The Academy of Sciences and Literature, Mainz, founded in 1949, offers its members a place for dialogue that focuses on interdisciplinary exchange, as well as the opportunity to realise long-term projects that serve basic research.
Alumni-Meeting in Virtual Way
The "One and Only Virtual" Alumni Meeting 2021 as a virtual event!
Via a Digital Conference Center (Adaption of work-adventure) all guest could walk around to see each other, enter the lecture room as well as the three labs where a labtour took place.
And they could meet each other in the meeting point area for small talks in between the program, small groups of up to 5 people could make small video talks with each other when they meet "digitally" in the conference center.
More than 80 alumni and guest from over 16 countries took the "virtual chance" to take part in our regulary Alumni-Meeting.
Link_more
New Equipment: Stress-Strain
A Universal testing machine from Hegewald&Peschke offering wide-range temperture control, long elongation path for ductile polymers, static testing according DIN, but also dynamic testing
Link_more