Welcome
The group focuses on polymeric materials, their molecular structure and the resulting macroscopic material properties. In addition, the enhancement of characterisation techniques builds the base of our research. An important part are the synthetic capabilities of the group allowing to structure well-defined polymers with variable composition of monomers and controlled topology. Model systems are a prerequisite to study structure-property relationships.
Additional information on our research can be found here.
Tryout of the lecture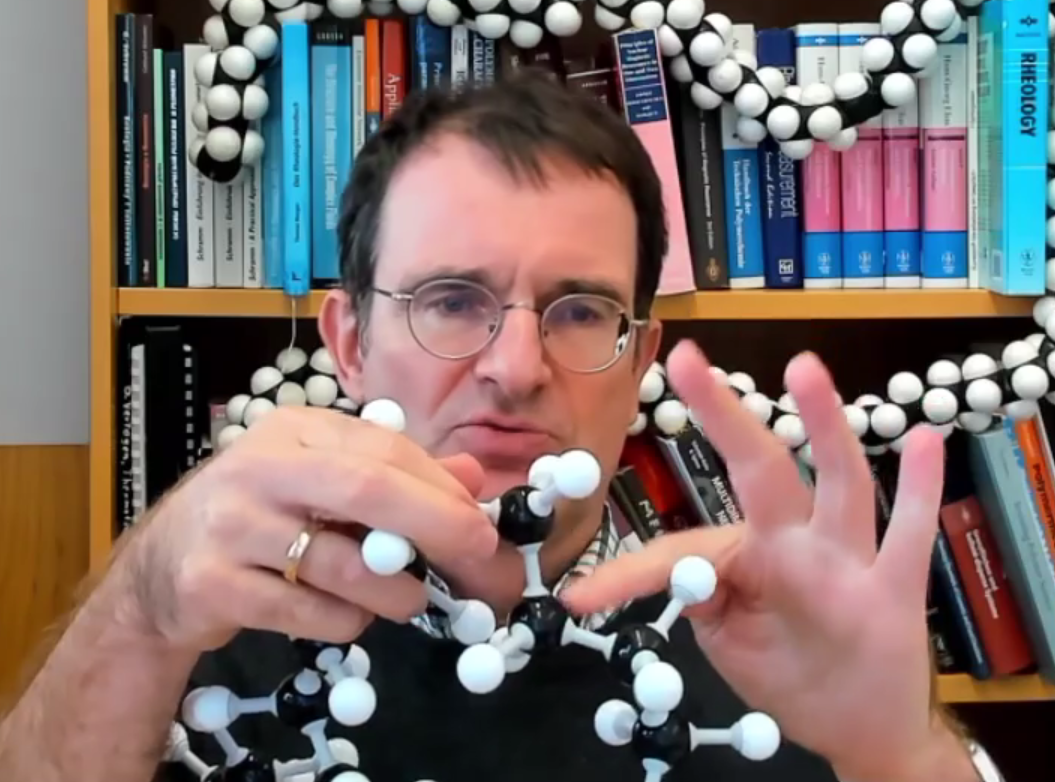 Let's go for a impression of the lecture "Einführung in die Chemie Und Physik der Makromoleküle" in On-Demand Streaming.
If you are interested: Look into the CAS for registration or go via the survey page "Teaching in the Group of Prof. Wilhelm" where you can find the actual offers in teaching as well as list of all possible lectures.
Teaching in Wintersemester 2021/2022
Here you can find informations about the teaching offers in the group of Prof. Wlhelm in this Semester.
Or: go via the survey page "Teaching in the Group of Prof. Wilhelm" where you can find the actual offers in teaching as well as list of all possible lectures.
Interested?
You are interested in synthesis of polymers, characterisation methods or even the development of such methods? You want to work in an interdisplinary group ranging from synthical chemists over physicists to engineers?

HiWi, student research project, PhD thesis or postdoc? Here you find more Information!
Alumni-Meeting in Virtual Way
The "One and Only Virtual" Alumni Meeting, this year as a virtual event!
Via a Digital Conference Center (Adaption of work-adventure) all guest could walk around to see each other, enter the lecture room as well as the three labs where a labtour took place.
And they could meet each other in the meeting point area for small talks in between the program, small groups of up to 5 people could make small video talks with each other when they meet "digitally" in the conference center.
More than 80 alumni and guest from over 16 countries took the "virtual chance" to take part in our regulary Alumni-Meeting.
Link_more
New Equipment: Stress-Strain
A Universal testing machine from Hegewald&Peschke offering wide-range temperture control, long elongation path for ductile polymers, static testing according DIN, but also dynamic testing
Link_more
Deutscher Rheologiepreis
Rheologie-Award 2020 of the German Rheological Society for Dr. Volker Räntzsch, many congratulations to him!
This price honors outstanding dissertations in the rheological field and gets awarded every two years. Volker Räntzsch finished his dissertation in Juli 2018, his dissertation "Polymer Crystallization under Quiescent and Flow Conditions: Relationships between Molecular Dynamics, Morphology, and Rheology" received the price in 2020.
The award ceremony will be online on Nov. 14th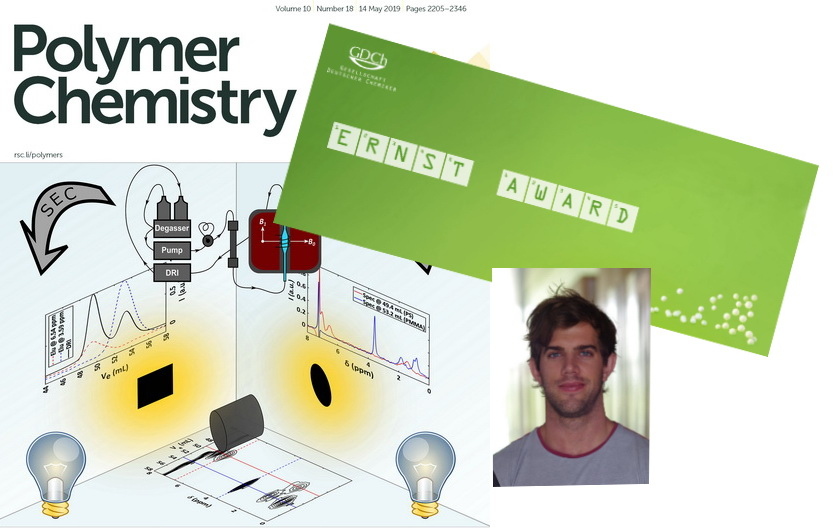 Ernst Award 2020
ERNST-AWARD: Congratulations to Mr. Carlo Botha! He received the Ernst-Award 2020 (Award for outstanding publications of young scientists, GDCh Fachgruppe Magnetische Resonanzspektroskopie) for his Publikation Botha et al., Polym. Chem. 10, 2230–2246 (2019), "On-line SEC-MR-NMR hyphenation. Optimization of sensitivity and selectivity on a 62 MHz benchtop NMR spectrometer" (Details (DOI, Titlepage) in our list of publications).
Time and place of the award ceremony are unknown due to Covid19.

New Equipment
Static and Dynamic Light Scattering : Fully equipped system from ALV, Germany allows characterization of colloids and polymer in solution in arbitrary solvents.
more

Coverpage Macromol. Chem. Engineering
Latest article about applications of combined methods on crystallising polymers [Raentzsch et al., 2019] achieved a coverpage in Macromol. Chem. Engineering